THE FIRST GAME of Graham Rowntree's new era left Munster fans with plenty of food for thought.
There were some good things, some bad things and some downright nasty things as the men in red lost to Cardiff in their URC opener last weekend.
Former Ireland, Melbourne Rebels and Kintetsu Liners analyst and coach Eain Toolan joins Murray Kinsella in today's episode The42 Rugby Weekly Extra – podcast available members of The42 every Monday and Wednesday – for a deep dive into the Munster performance.
Toolan highlighted some encouraging signs in Munster's display but highlighted some of the key areas where Rountree's men need to make quick improvements. One aspect that caught his eye was their work in the tackle as Munster conceded three tries, much to the frustration of new defense coach Denis Leamy.
"I thought there was some intent from a defensive standpoint," Toolan said.
"You could see the effect the Leinster environment had on Leamy, the defensive speed of working two to either double the contact or have one tackler, one tackler and apply pressure.
"So you can see early signs of defensive intent, but I think they'll want to take the number of missed tackles out of their game. There were 13 missed tackles in the 27th minute and many of them were tackles in good positions that looked to have a shot but bounced off contact rather than being cleared.
"Cardiff's first try reflects that when Cardiff's center goes with a little gap, there is footwork and it's Fine Wycherley who makes the tackle but doesn't stick, doesn't complete the tackle on the ground. The ball carrier gets up and goes again, Cardiff's first try.
"I think what Leamy will focus on in training this week is to have really solid contact, but to stay after contact and not allow the ball handlers to bounce freely.
Source: Ben Brady/INPHO
"It's also the vagueness of the law because I've definitely seen ball carriers being punished when they're thrown to the ground and not released. There hasn't been a clear message from the Cardiff player so it's not significant, but I think the intent of the Munster tackles and why a lot of those stats come in as missed tackles is that they didn't complete the tackle to the full extent."
Similarly, there were frustrating elements of Munster's play for new attacking coach Mike Prendergast, most notably their inability to produce successful kicks from lineouts and scrums.
"The execution of Munster in the first leg was a big source of frustration for Prendergast," Toolan said.
"There were so many inaccuracies on the starts from Munster, whether it was basic pass-catching skills, running lines or those wide breakdowns. I counted nine losses in the first or second phase of a structured attack.
"It just stopped Munster from getting into their structured attacking schemes because they tended to clear the ball. Malakai Fekitoa had a debut he would like to forget, he did cough up some uncharacteristic mistakes. Understanding between him and Chris Farrell will take time. Those 9-12-10 games out of the back just felt very sticky and heavy, not very fluid.
"I thought Paddy Patterson struggled on the inside, it all starts on the back nine in terms of passing accuracy. It was an area of ​​the game that he needed to work on.
"That turnover really cost Munster. You think about the way Munster turned the ball over with the play in the scrum and they didn't exactly aim at the breakdown and Cardiff did a good job of forcing the conversion.
"Out of that scrum, Cardiff scored a crucial try, and that comes directly from Munster's structured attack and lack of precision, which was the theme of the game."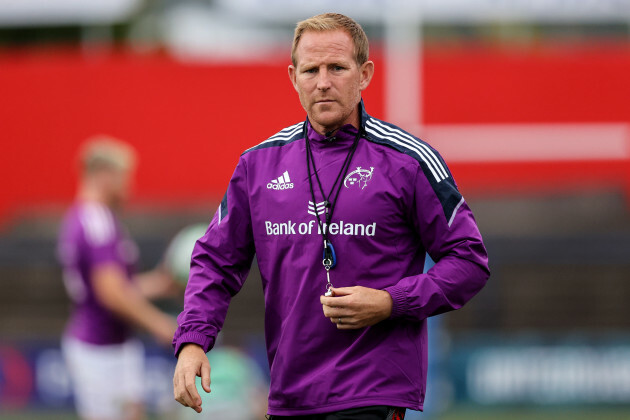 Munster attack coach Mike Prendergast.

Source: Ben Brady/INPHO
The mention of Munster center pairing Malakai Fekitoa and Chris Farrell was interesting given that new signing Antoine Frisch has been influential off the bench and combined well with Fekitoa on several occasions.
Frisch will now travel with the Emerging Ireland squad on their tour of South Africa, but will return to challenge the more established pair for a starting place in Munster. Rory Scannell and Dan Goggin offer additional midfield options.
"It's hard to be too harsh on Farrell because a lot of the problems were caused by Fekitoa," said Tulan of the centres.
"Even when they run that 9-12-10 from behind, Farrell's pass catch is good, but if you watch Fekitoa's running line, he's actually running away from Farrell, while the gap is a fine line behind the 13.
"It was a combination that didn't work immediately, and there is excitement around Antonina Frisch. It will be interesting to see these combinations again when the first Munster players return to the squad.
"But yeah, between Fekitoa and Frisch it was exciting, they have such footwork on the line and the ability to create things out of nothing. It will be interesting to see how Prendergast anticipates his favored partnership with the centre."
To access The42 Rugby Weekly Extra, which airs every Monday with Gavan Casey, Bernard Jackman and Murray Kinsella, and every Wednesday with Eoin Toolan, become a member of The42 at members.the42.ie.
This article was originally published at 3:00 p.m