Nick Timony is Captain Ulster vs. the Dragons this afternoon.

Source: Laszlo Geczo / INPHO
SPECIALLY in such games coaches throw out the old cliché that all opponents are dangerous. But Ulster is starting to get to a place where he no longer washes.
In the middle of the week, Dragons rugby director Dean Ryan called Dan McFarland's side an "coming force". Ulster themselves may be happy about this, thinking they are already a force in themselves, but the case still remains: games like today at the Rodney Parade (14:00) are now a must to win.
In the past, losses in such a game could be attributed to the fact that the province is not yet at the elite level, but now this excuse no longer applies. If they really consider themselves a top fighter, then here they should be, spending, frankly, losing opponents on the way to the playoffs.
They've already done it at home this season, but the visit was a different matter. They missed out on the Ospreys in a game they really felt they had to win, especially because it was sandwiched between wins at RDS and Stade Marcel-Michelin everywhere, and defeats at Connacht and Munster would hurt for a variety of reasons.
Dragons are not at the level of any of the above opponents. While their results will show that they rarely fall to the end of a one-sided score, the standings will also reflect that they have won just one game this season and are in a low 15th place compared to Ulster, who may return to the top with victory.
These are games in which, if Ulster really wants to be considered a contender for the United Rugby Championship, they have to win and, ideally, win in comfort.
"You can't afford to miss every game," admits Ulster assistant coach Roddy Grant. "We have already lost three, all the teams around us have lost two or three.
"You have to win every game, it's as competitive as it should be. Again, any game, Cardiff is the same, Leinster the same week after, you're not going to win every game, but it makes it harder if you don't. "
Looking at team letters also shows only one winner. Five of their Irish have returned to Ulster – and, ironically, one Welsh too – while the Dragons have none of them on tow.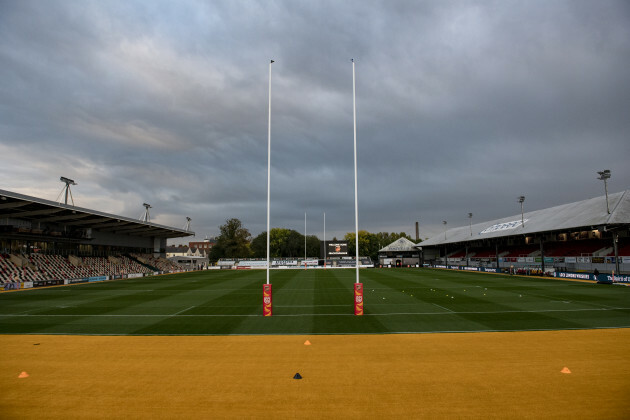 The Rodney Parade hosts today's meeting of the Dragons and Ulster.

Source: Ashley Crowden / INPHO
Given the stellar power, this should be a one-sided affair, though any current or former player will be happy to tell you how unpleasant Rodney's Parade is on the field, especially when storm Eunice revolves around Newport.
But with the likes of Robert Balukun and James Hume back to add two extra dynamic presences to the already dangerous back line, and Tom O'Toole, Kieran Treadwell and Nick Timony back to reinforce the pack, Ulster is about the same strong as they can be.
Indeed, it will be interesting to see how they react to their return to their province this week, with all five probably considering the game in Italy as the most likely path to Six Nations playing time. A great performance can affect Andy Farrell's mind.
They'll have to do without Dwayne Vermeulen, who is resting before a big workload for the rest of the season, but McFarland and Grant will no doubt use this as a challenge to see what their kit will look like without Springbok.
Marcus Ree looks like a player who could perform again in the absence of Vermoulin, an open flanker in excellent form, while Cormac Izuchukwu's athletic prowess, returning to the bench, will also be a welcome stimulus.
The Dragons certainly don't fall easily and they can still appeal to dangerous players such as former Wales international John Holmes, Sam Davis and Oli Griffiths, but the depth isn't for the Wales region, which is still evolving into a more decorated lineup for the future.
Ulster is at the opposite end of this scale, having survived its dark days. Now they are climbing the scale, and nothing less than a victory – and, ideally, four attempts – will not be good enough.
Dragons
15. Josh Lewis; 14. Jonah Holmes, 13. Adam Warren, 12. Aneurine Owen, 11. Rio Dyer; 10. Sam Davis, 9. Gonzalo Bertrand; 1. Greg Bateman, 2. Taylor Davis, 3. Chris Coleman; 4. Joe Davis, 5. Joe Maximov; 6. Harry Cady (Captain), 7. Oli Griffiths, 8. Dan Baker.
Replacements: 16. Eliot Dee, 17. Aki Seyli, 18. Doge Mesake, 19. Hugh Taylor, 20. George Young, 21. Rodry Williams, 22. John Davis, 23. Will Talbat-Davis.
ULSTER
15. Rob Little; 14. Robert Balukun, 13. James Hume, 12. Stuart McCloskey, 11. Ben Moxham; 10. Billy Burns, 9. Nathan Doak; 1. Andrew Warwick, 2. John Andrew, 3. Tom O'Toole; 4. Kieran Treadwell, 5. Sam Carter; 6. David McCann, 7. Marcus Ree, 8. Nick Timony (Captain).
Replacements: 16. Bradley Roberts, 17. Eric O'Sullivan, 18. Marty Moore, 19. Cormac Izuchukwu, 20. Matthew Ree, 21. David Shanahan, 22. Ian Madigan, 23. Stuart Moore.
Referees: Andrea Piardi (Italy)